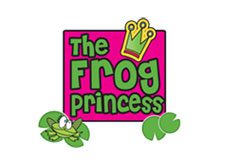 Online ticketing will be available in late January.
The Frog Princess

A Training Show Production
Featuring performers ages 5–9
This show is Rated G
THE FROG PRINCESS
Book and Lyrics by Richard Wilson
Music by Lynne Cimorelli
Performances
March 8–10, 2018
at Golden Hills School, El Dorado Hills
(Each cast will perform three shows; shows and times noted on PERFORMER'S CALENDAR.)
SHOW OVERVIEW

In the suburb of Brookfield Park live three best friends; Vanessa, Tiffany, and Amber. They get pretty much whatever they want. This is particularly true of Vanessa, who is her "Daddy's Little Princess."
Mysteriously, Vanessa finds herself magically transformed into a frog. Not knowing what to do, the trio enlists the help of Brandon, a well-grounded brainiac and the smartest boy in their school.
He discovers that Vanessa was transformed by an evil application she had downloaded onto her smartphone. The only way she can hope to regain her human form is to give up her selfish ways.
Vanessa tries to earn her transformation by teaching a group of children to sing.
While the singing is successful, the transformation was not. Brandon determines that since she did this for only self serving reasons, it didn't work.
Will Vanessa ever return to human form? Or will she remain a frog forever and force Tiffany and Amber to go to the mall without her? Find out as you experience The Frog Princess.
ONLINE REGISTRATION – Opens Tuesday, December 12th at 8:00pm and closes when full or on Tuesday, January 2nd at 11:59pm, whichever comes first.
AUDITIONS – Saturday, January 6, 2018 beginning at 9:00am at EDMT's Rehearsal Facility
5011 Golden Foothill Parkway, Suite 4, El Dorado Hills, CA 95762.
Note Regarding Auditions and Callbacks: There will be NO videoing other Auditionees. You may, however, video your own child.
ADDITIONAL INFORMATION
For any additional questions or information about The Frog Princess, please contact call the EDMT office at (916) 941-SING (7464).